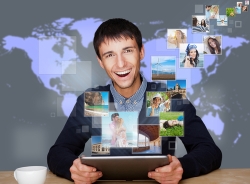 Did you know that:
52% of consumers say that watching a video on a product makes them more confident with a purchase decision.
Cisco predicts that in the year 2013, video will be 90% of all consumer traffic.
Blog posts incorporating video attract 3 times as many inbound links as blog posts without video.
It sounds like a good reason to follow the trend and enjoy all the advantages that video can give you. See where it can be applied:

About Us or Company Overviews
Most of these pages tend to be boring. Spruce them up with a video about your company, what you stand for, what you like and any other relevant information.
Blog
YouTube is the second largest search engine, coming in second after Google. Post videos on YouTube (or other services like Vimeo) to permit a new audience to find you. If you are using YouTube, include a hyperlink in the description so that people can visit your website.
Product Pages and Product Demonstrations
Use a camera to show them what your product or service does. Show off some of your best features and explain the benefits provided.
Landing Pages
A landing page is designed with one purpose – to get you to do something.  Something like providing your name and email address or purchasing a product.
How To
People love to learn so show them how to do things and make it relate to what your offering is.
Frequently Asked Questions
You will undoubtedly be asked the same questions about your products or services over and over. Record some videos on your most frequently asked questions and add them to your website.  Educate people about your product.
Questions that Should be Asked
Just like frequently asked questions, you probably have questions that you wish your clients would ask about your products or services.
Ask the questions for them and record the answers in a video and post it on your website.
Customer Testimonials
Customer testimonials are extremely powerful. People believe credible testimonials almost as much as they trust testimonials from family and friends. Want the secret to customer testimonials that really resonate? Get them on video.
Interviews
Interview people in your company or industry experts and add those interviews your website.
Case Studies
Let's face it, sometimes case studies are boring. Spruce them up by turning them into a video presentation that tells a story.
Contact Us Page
Include video on your contact page. For example, record a video from the point of view of someone coming into your office.
24 Hour Web Cam
Place a 24 hour web cam in an interesting area of your office. I suggested this to a client that had a staff that was a lot of fun. I wanted the world to see that they enjoyed themselves while they worked.
So what's holding you back? Begin to incorporate video into your website today.
Read full article here.