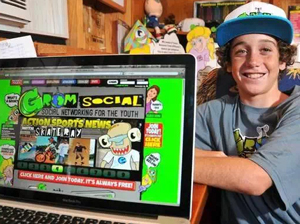 12-year old Zach Marks from Melbourne Beach, Florida, has launched his own kid-friendly social network called Grom Social aimed at the under-17  age bracket.
Marks, then 11, launched the site in November, 2012. He initially looked for an alternative to Facebook that was 'safe and cool' but when he couldn't find a suitable option, he created his own site with the help of his siblings and close friends.
The social network now boasts Instagram and Twitter integration, and free educational content for kids — even tutors to help with homework. As of last month, the new site had nearly 7,000 members.
Read full article here.