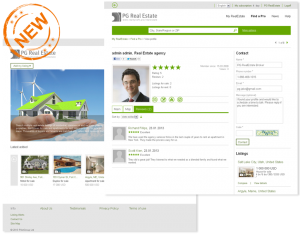 Winter goes on and on… To support you in this cool time, we release a new version of PG Real Estate with new hot features!
What's new? Here you go!
Find a Pro. There is a new section on the site that helps searching for local agents and agencies, viewing their profiles, listings and rating their service quality. For professionals, it's a great opportunity to promote own services and build an online reputation. For buyers and leasers, it's a good way to check whether a Pro is competent and reliable. "Find a Pro" section can be turned off or on through the back-end. Admin can choose to show only agents, only agencies or both. Reviews can be set to require admin approval. Agents receive a notification when a new review is submitted; a reviewer gets notified about agent reply.
Flexible paid services settings. There are more options for "Cost for publishing listings for sale and for lease" service. Admin can create different periods with different prices (e.g. 10 listings – 1 month – $10, 10 listings – 2 months – $20, etc.)
Flash or Video. Flash and Video files can be uploaded to site front page ('ffmpeg' module is required on a server).
Multiple upload. We've recently removed a flash tool which helped to upload several images at a time into a listing. There is a non-flash solution now. You can choose images one by one without waiting for a previous image upload.
Banners management. It's improved for site members and administrator. The improvements are based on customers' comments.
Yandex property. Great option for the Russian administrators to import their listings to Yandex base of properties. The feature is in release preview status now.
Blurred images. The blur effect can be turned off through the backend if required.
Slide bar for price range. Prices of properties for sale and for rent differ significantly. This is why there are different slide bars for the price value in refine search now. The script displays a max value which corresponds to the max price specified in a listing for sale or in a listing for rent.
Moving up and down. There is an option to change the order of values that describe a property – property types, condition, local amenities, accommodations, etc.
New cron file. Google translate API requires payment if you accede a certain limit of characters. We help you save in this service. With the help of the new cron file the script will refer to Google database at a certain day or time and keep translations in your database.
100% open source. We received upset comments regarding the fact that there was an encoded file in the open source package. Great news – PG Real Estate open source package is 100% open source!