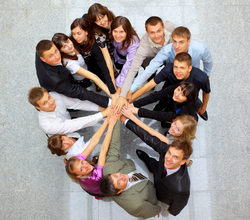 Online dating company eHarmony, which claims that it has helped to create over half a million marriages, says it is ready to venture into new territory: the job market. The company plans to launch a new product that will match jobseekers and employers, allowing them to create lasting, meaningful (working) relationships with each other.
"We know that it's between 50 and 75 percent of all people say they're not really happy with the jobs they currently have," says Neil Clark Warren, the founder and CEO of eHarmony. "We're trying to bring to bear some of the algorithms that we've already understood from all of the work we've done on matching people for marriage."
Warren says that the company hopes to launch the job-matching site in June.
Though creating a new job search tool from scratch is a daunting task, the idea is to leverage the company's existing matching expertise by moving it into new territory. The job site is one of nine other "relational issues" that the company believes it can address in addition to romance, says Warren, and is one of the first it is tackling. By using existing matching tools and doing something that no other job search site does—pairing workers with companies—eHarmony believes it can create a popular new product.
See full article here.