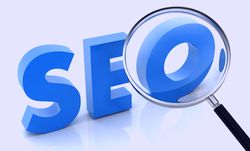 In any type of business either online or offline, advertising is highly important. To help the customers reach their desired product, it should be made easier for them to access when they search online. If a person is doing online business, he should check whether a good number of clients can access his products. And since the competition in internet marketing is increasing day by day, help of search engine optimization or SEO should be taken. SEO makes your product visible to all the customers when they search for it online. If a person wants to achieve a great success in his business, he should take the help of SEO for internet advertising. Let's see in details how it actually helps.
Increasing website traffic
Online marketing is nothing but a big game played with numbers. If a website provides an article with sufficient number of keywords, when customers search for that specific keyword they will get the name of that website, which they will visit and thus increase the traffic of that site. In Google, the largest search engine on existence today, it has algorithms that sorts out and displays websites that matches the search criteria. So, if the optimization of the website is done properly in that order, the traffic will soon increase.
Research leading to growth of the business
SEO always helps a small online business to compare and research the factors that makes their opponent website more popular. It also helps to analyze the strategies performed by opponent website to draw away their clients. Generally, ranks of websites while searching depends on the use of keywords by that site. The top ranked websites are considered to be more perfect to be used by the clients. Using SEO helps in proper manufacturing of the website which will increase the number of visitors and soon convert regular visitors to customers. Besides this, it is also a cost efficient process and much cheaper than advertising. A good relationship is also build with other websites which increases the experience of the company owner and ultimately helps in business growth.
Let's get professional
Small business owners sometimes to save expense, design their websites themselves. But it should be kept in mind that a dull looking websites is a great client repellent. It is always advisable to hire professionals for proper website designing. The new website should be dynamic, catchy and attractive enough to draw the clients. Also, SEO experts should be consulted with. Search engine algorithms consists of factors like links, titles, headings etc. an SEO expert can give good suggestions on when and where to place them. If you would like to create solutions for online business try software from Pilot group Ltd.
So, it is wise not to waste time. Make your website more trustworthy, standard and well recognized to the clients. Hire an SEO expert and take suggestions on how to improve your website and the changes that required to be made in order to make it top ranked among the other sites when clients searches with a keyword. That is how; your small business will flourish to great success.
About The Author: Claudia is a writer/blogger. She loves writing, travelling and blogging. She contributes to Simply Electronics.