Pilot Group Rus. is glad to introduce all new Job Site Pro 2012, the blossom of features and a blooming design on a totally new platform!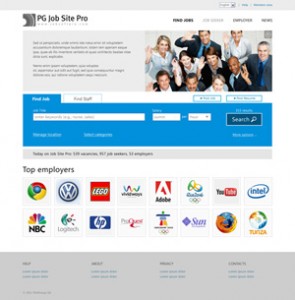 The entirely new platform, cutting off all superfluous and thoroughly reviewing the content and interface of each section. Now we are sure to provide you with the most pristine coding this script ever consisted of.
Job board script is totally SEO friendly. There is a large section in the back-end devoted to SEO settings of your job site. Enjoy and be careful!
Job Site Pro design is easily customizable from the admin panel. You can now change the look and feel of the site right from the admin panel using the powerful inbuilt tool. Feel yourself a designer!
Another great thing will please the present and future Job Site Pro owners. We have carefully thought through and implemented a system of payment services which will satisfy the most discerning job board owners. Go charge everyone for everything! Or no one for nothing!
And, our dear Job Site Pro owners, no matter how long ago you bought our job board software, we will be glad to provide you with this fresh edition at no charge.
It's not a joke! It's a long-awaited all new Job Site Pro!