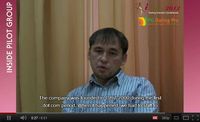 Yoshkar-Ola, Russia – Pilot Group LTD announces that both the company and the DatingPro online dating software product were featured in the iDate Inside video.
The video can be seen on both YouTube and on the iDate Inside websites.
Dating Pro is a fully functional turnkey dating software package.  The software is available for license and allows anyone to create their own dating site.
DatingPro's features include:
- Dynamic profiles and searches
- 6 free unique designs for niche, matrimonial, romantic, flirt dating sites
- one-time payment, free support, free installation.
In the iDate Inside video, the company and the DatingPro product was discussed.  Yanar Evdokimov (CEO) and Marina Zainieva (Director of sales and support department) were interviewed in the video.
Dating Pro will also be at the upcoming Internet Dating Conference in Miami.
For more information, please visit www.datingpro.com or contact:
Pilot Group Rus, LTD
68, Leninsky st, Yoshkar-Ola, Russia
Elena Kolyasnikova
Tel: 1 (866) 620 1919
Email: press@pilotgroup.net