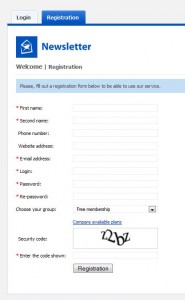 Check out new features of our email marketing software:
From now on your service customers can register themselves on your site, not only being registered by site administrator.
Different user group types
You as site administrator can create Free groups, Trial group and Paid groups of users on your site. Give different permissions to group types and set up period and cost.
Far more statistics on the site
Track your site responders, email and personal statistics for each sent newsletter.
You can now track your site newsletters with GA tool.
Set up a filter for subscribers of your newsletters. You can choose those who will get your newsletter by different parameters.
Translate your site into any right-to-left language. Just choose direction while adding a language and all the site content will be automatically oriented in left or right direction.
You can put any email addresses or whole domains into the black list now. They will be automatically excluded while subscribers import or manual adding of subscribers by any site user.
All the reported bugs are fixed! Enjoy bulk emailing on a new quality level!
Test PG Newsletter software online demo!
Ask your question about PG Newsletter!
Request free server trial of PG Newsletter!