Being initially developed as event registration software, PG Events was extended to an Event Portal where both site members and administrator create events. Events publication by site members can be enabled or disabled, set free or paid.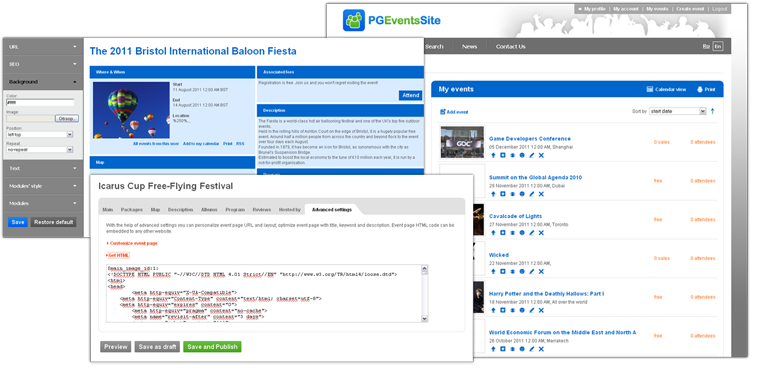 Improvements in event description:
- Time-zone choice;
- Specification of program file name;
- Max number of tickets for an event;
- A drop-down to purchase several tickets at a time;
- Option to fill in buyer and attendees details if several tickets are purchased at a time;
- "Hosted by" tab is added to event description. It contains organization name, organization description and contact email;
- Repeated events;
- Option to copy event to save event organizer time and efforts;
- Option to re-design event layout to make it stand out from the crowd;
- Option to personalize event with unique URL, title, keywords and description.
View event:
- "Share" feature;
- "Add event to calendar" feature is extended. There is an option to add event to calendar in Microsoft Outlook, Google Calendar, Yahoo Calendar, Windows Live Calendar and Apple iCall;
- An attendee can "Contact event organizer" and view "All events from this organizer".
Search results:
- All events of the event portal were divided into 2 main archives – Upcoming and Past. We added a new one – Ongoing events.
- Search results "Bread crumbs" feature is improved. The path displays search form criteria – keyword, dates and category.
- Info pages URLs reflect the page name.
Payment options:
We've thought out the following ways for site administrator to receive revenue from an event portal.
Paid services:
- "Lift up" event in search results;
- Feature event on event site front page (feature is available to members and administrator).
A package of additional permissions which may or may not require payment:
- Copy event;
- Create repeated events (max number of event iterations is set up in admin panel);
- Event personalization – personalized URL, SEO tags (title, keyword, description), re-designed event layout (event description modules arrangement, background, headers, colors, fonts, etc).
Event portal administrator can choose one of the following payment schemes of charging site members:
a) All events are posted by members free of charge. Additional permissions are available free of charge. Paid services are available if set up;
b) All events are posted by members free of charge. The package of additional permissions requires payment. Paid services are available if set up;
c) Events are posted by members for a fee – payment amount is set up separately for free and paid events. Additional permissions are available to all site members for free. Paid services are available if set up.
Would you like to test-drive PG Events? Check the online demo
Despite the fact that PG Events 2011 includes many new features, the pricing hasn't been changed.