Hot summer days came! For most of us it's the best time to take a break and enjoy the brightness of the season. Not for us
New version of PG Real Estate software will be released this summer!
PG Real Estate development team is currently working at the following changes:
Brand new design of real estate website user mode!
Many requests, improvement suggestions were received from the software users in our Community and Wiki. The ideas concerned both design and navigation – all of them were valuable for us. And here is the result!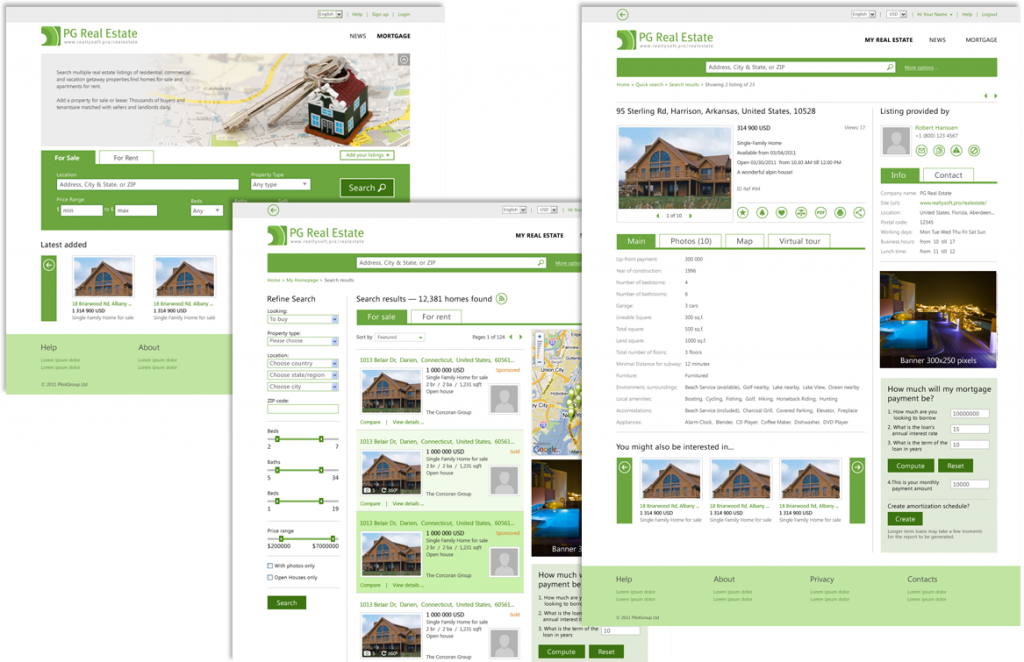 You request – we implement:
- BETTER header and footer control with cool drop-downs in top menu and multi-row footer;
- IMPROVED search with search bar on top and sliders in refine search;
- GOOD ad spaces on the right side of site pages;
- USER-FRIENDLY user home, my listings, view listing pages;
- STEP-BY-STEP procedure of posting a listing;
And much more!
Despite the fact that the upcoming layout changes are deep enough, we are also working at functional improvements of the real estate script:
All settings connected with site layout (listings order, index page header, colors and logos) are combined into "Layout settings" section with better preview mode.
"Listings order" is enriched with new display type – scrollers.
Index page header has the following options to choose from – text and/or image, nothing or slider with listings (including listings rotation management). The latter may become a good advertising opportunity for your site members.
Changing your real estate site look and feel will become easier than before!
There are even more functional changes being developed:
- Separate measure setting for "Land square" field;
- "Energy efficiency class", "Material of building" and "Condition" fields are added to the listing;
- Switching on/off "Do not include address" and "Negotiated Price" options in a listing. We know property price and address may be very important for you.
- Minor SEO improvements – displaying language code in site url (en/ru/de/etc.), excluding some site pages from search engines with the help of robots.txt, removing duplicate pages, adding user name to the view profile page url and others.
New version of PG Real Estate software is expected this summer.
Evaluate current PG Real Estate online demo now!
Sign up as a community member to stay tuned, communicate with software customers and product manager!