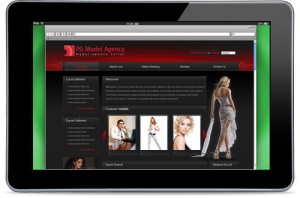 PG Model Agency script is the perfect way to organize your independent modeling agency through the use of the internet. Open source agency software is aimed mainly at meeting your needs and requirements. You are the administrator here. It feels nice to be your own boss, doesn't it?
Here are a few reasons why this Model agency software is your best choice for you:
-  Efficient – PG Model Agency solution is perfect for someone that knows enough about php and html codes, but not enough to create their very own website. This software already gives you a platform to form the web business portal. All you have to do is install it, and start making profit.
-  Simple – This type of software is easy to understand, and even easier to use.
-  Easy to use – Do not be afraid of what online PG Mode Agency can do for you. It can do a lot. It can create better business revenue and make you look professional. Just give it a try by one click.
With the help of PG Model Agency script you will get a great variety number of options, such as full control of users, billings, site content and site parameters.  Using this script you can run your own modeling agency website, easily set up your models' profiles, pictures, videos and other details.
New version of PG Model Agency is completely ready for your business offering private access option and attractive design. Software can easily function in 2 modes of site operation: Modeling Agency site and Modeling Agencies portal. Inside, modeling agencies can create their own profiles, add models listings, upload information about their agencies, contact info, workplace. Become agency's administrator and handle PG Model agency website completely from your own directory, all data and settings can be managed there.